Reaction of activation
The activation reaction is also called activation. Activation changes the raw carbon material to a porous material. There are two means of activation: chemical activation and gas activation.
Chemical activation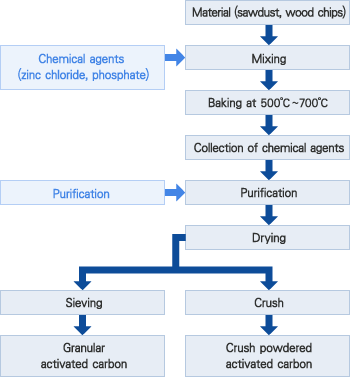 High temperature is applied to wood-based materials (sawdust, wood chips, etc.) to suppress creation of tar. Chemical agents (zinc chloride and phosphoric acid are used industrially), which erode the fibers of wood-based materials, are applied and allowed to penetrate. Air is blocked and samples are heated at temperatures of 500℃to 700℃ for carbonization reaction to produce activated carbon with micropores (diameter: 10 – 200Å).
This reaction includes complex processes, such as dewatering, condensation, polymerization, carbonization, and oxidation.
Gas activation
The carbonized raw materials (coconut shell charcoal, coal, etc.) and gas (vapor, carbon dioxide, air, and combustion gas) are reacted at a temperature of 700℃ to 1000℃ to produce micropore (diameter: 10 – 200Å) according to the partial action of carbon, as shown below, and activated carbon is produced.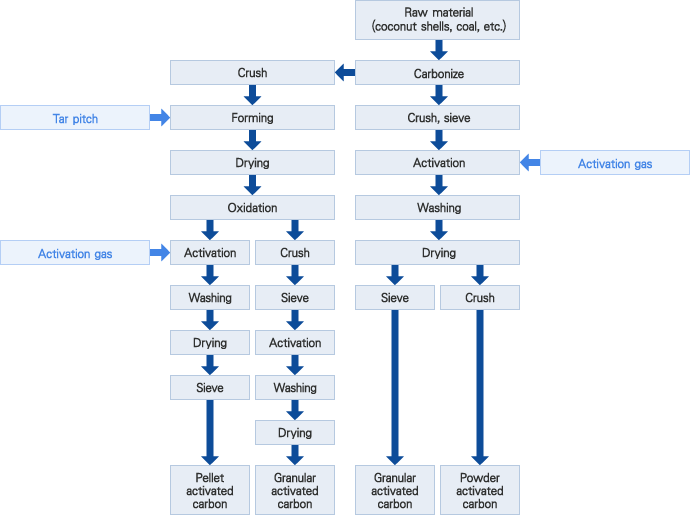 C+H2O = CO+H2 -31KCal Endothermic reaction (necessary to heat from the outside)
C+CO2 = 2CO -41KCal Endothermic reaction (necessary to heat from the outside)
C+ O2 = CO2 +94KCal Endothermic reaction (not necessary to heat from the outside)
2C+ O2 = 2CO +27KCal Endothermic reaction (not necessary to heat from the outside)