What is Activated Carbon?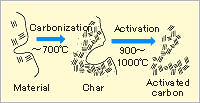 Pore formation of activated carbon
Activated carbon has micropores (diameter: 10 – 200&Aring *10&Aring = 1nm) created by reacting with activation gas and chemical agents at high temperatures using a carbon substrate, such as coal and coconut shells.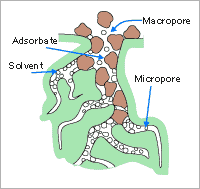 Activated carbon micropores
The micropores form a meshwork structure inside the activated carbon. The micropore walls have a large surface area (500 – 2500 ㎡/g) and various substrates can be adsorbed on the surface. Most activated carbon consists of 90% or more carbon. Part of the carbon is in compounds with oxygen and hydrogen. Ash content is a component that is peculiar to the raw material and contains Na, Si, K, Ca, and Fe.
Well-purified activated carbon is used for food additives and medical uses.