Our ProductsCarbon molecular sieves (CMS) and
Nitrogen gas generator KURASEP™
Nitrogen gas generator KURASEP™
A top-brand Pressure Swing Adsorption (PSA) system Nitrogen gas generator in Japan, KURASEP™ has a wide variety of sizes from small to large models.
Each model uses our Patented special operating system to save energy.

Cabinet Type (M-size)

Cabinet Type (S-size)

Mount Type

On-truck type
The principle of PSA system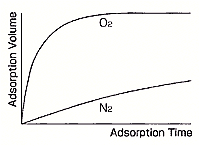 CMS is a mainstream adsorbent for Pressure Swing Adsorption (PSA) system Nitrogen gas generator. There is a differential diffusion rate system based on the fact that the oxygen molecule is smaller than the nitrogen molecule.
CMS adsorbs oxygen gas, carbon dioxide gas, moisture and so on in compressed air in a short period of time and compressed nitrogen gas is available at the outlet. When the pressure decreases to the atmospheric or vacuum level, CMS which has adsorbed oxygen gas and others easily desorbs them and is regenerated.
When the above two operations are done alternately between
two adsorption columns, nitrogen gas can be available continuously from the air.
The Advantages of KURASEP™
Allowing you to privately generate nitrogen gas with cost reduction
Full automatic, labor saving operation
Simplified system for easy maintenance
Not subject to High Pressure Gas Safety Act
Availability of a wide variety of models for many applications
(=availability of suitable one for your requirements)
Unique turndown system (optional) for saving even more energy.
The on-truck type is a model enabling spot, emergency demands for nitrogen gas supply
Applications for KURASEP™
Prevention of explosions and reactions in chemical plants
Carrier gas for drying or recovering solvents
Prevention of oxidation of chemicals
Transfer gas for flammable or explosive items
Atmospheric gas for melt spinning system for synthetic fibers
Atmospheric gas for storing products
Atmospheric gas for storing packaged foods
Control atmospher into storage of fruits and vegetables
Atmospheric gas for heat-treatment
Atmospheric gas for rubber vulcanization
Prevention of explosions of chemical tankers
Supporting gas for laser processing
Atmospheric gas for nitrogen type reflow furnace
KURASEP™ Flow Diagram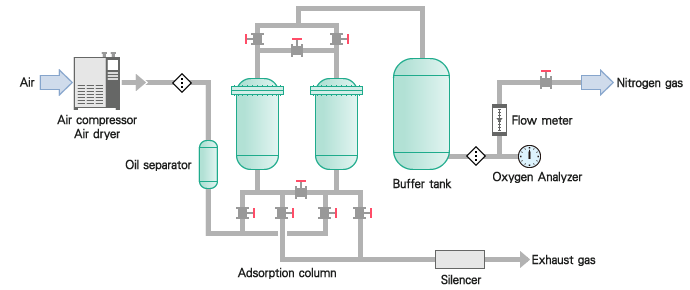 Kuraray's Carbon Molecular Sieves (CMS)
Kuraray is one of the biggest Activated Carbon Manufacturers all over the world, which supplies various kind of Activated Carbon including CMS for Pressure Swing Adsorption (PSA) System for Nitrogen gas generator.
Also Kuraray is the top Nitrogen gas Generation PSA manufacturer in Japan using its own high performanced CMS and PSA engineering technology.

Normal Pellet carbon

CMS
Principles of Kuraray's Carbon Malecular Sieves (CMS) for Nitrogen gas generator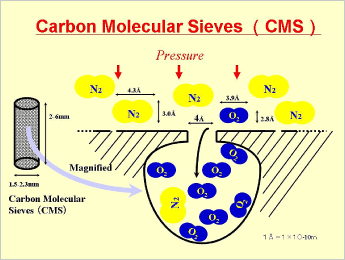 General activated carbons can not separate Nitrogen from the air. But Kuraray's CMS can make the separation by its High Adsorption Selectivity for each molecular.
Kuraray's CMS is manufactured from Coconuts Shell and designed to have the most suitable pore for separating Nitrogen from Oxygen continuously by repeating the cycle of adsorption (Pressuring) and desorption (Depressurizing). Due to the high separation efficiency, Kuraray's CMS can provide high nitrogen gas generation with low air consumption.
Features of Kuraray's CMS
High nitrogen gas generation due to the high speed of Oxygen adsorption
High nitrogen purity due to the selective adsorption
Low air consumption
Line Up of Kuraray's Kuraray's Carbon Malecular Sieves (CMS)
Kuraray has 2 series of CMS.
[ H ] type

High nigrogen gas generation type
Appropriate switching cycle is 60sec.
(Kuraray Standard)
[ S ] type

Low air consumption type
Appropriate switching cycle is 120sec.
(Kuraray Standard)
Basic property
1.5GN-H
1.5GN-S
GN-UC-H
Diameter
1.4 -1.6 mm
1.3 - 1.5 mm
Bulk Density
0.65 - 0.70 g/ml
0.60 - 0.66 g/ml
JIS Ball pan hardness
> 95%
> 92%
Switching Cycle
(Kuraray Standard)
60 Sec
120 Sec
50 Sec