Our BusinessFunctional activated carbon business
With functional activated carbon products developed by our unique and innovative technology, Kuraray will offer the solution for customer's objectives.
The advantages of functional activated carbon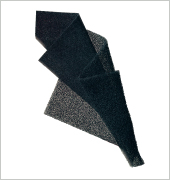 People are more aware than ever of the need to protect the environment, and that's why high functional activated carbon has been developed. So we have enhanced carbon performance, and given it features and forms that allow it to be incorporated easily into manufactured products.
Activated carbon now comes in a variety of molded and processed shapes, such as fibers, cloth, sheets, and blocks, meet to optimized the application. This has been accomplished by our highly acclaimed technology and adequate development power.
Our advanced carbon pore control technology is contributing to superior supercapacitors in the field of energy regeneration & storage.
Now, we find ourselves in a promising and highly visible new field, the functional activated carbon business.