History of research & development
KURARAY CHEMICAL CO., LTD., as predecessor of KURARAY CO., LTD. Environmental Solutions Division, began with the production and sales of carbon disulfide. The activated carbon business began in 1965 and the company gradually shifted to the activated carbon business.
When production of carbon disulfide stopped in 1987, Kuraray's business specialized to activated carbon business, functional activated carbon business and equipment manufacturing business placing the activated carbon technology as the core of the company.
In 1997, Tsurumi Research and Development Center was built with a total floor area of 1400 ㎡ in the plant at Bizen-shi, Okayama.
The Research and Development Center houses the latest equipment, and is the site of practical research directly connected to the market and production.
Kuraray enforces research and development activities for upgrading customer value.

Tsurumi Research and Development Center
Basic strategy
Kuraray has been engaged in the production of high quality products and many creative products by accumulating overall technology, such as materials, production methods, processing technologies, and equipment. This is realized by industrializing production, processing, and manufacturing processes.
The potential applications of activated carbon have been broadened by flexible ideas and original technology to create and enlarge new business opportunities.
Applications of activated carbon
Activated carbon is a porous carbon material produced from coal and coconut shells. Activated carbon has large numbers of micropores, ranging from 10 to 200 Å in diameter. The surface area calculated from these fine pore walls is 500 to 2,500 ㎡/g (1 Å = 1/10000000 mm).
Activated carbon can be used to purify water and air, adsorb and desorb chemical substances, recover and recycle chemical substances, and store energy within these micropores.
There is a need for environmental cleanup using activated carbon with increasing public interest in the environment and the introduction of increasingly stringent regulations.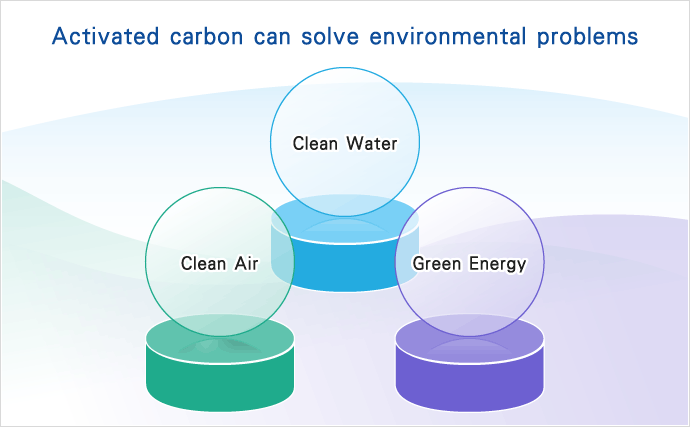 Introduction of technology
Activated carbon is used in various fields. Therefore, the research center handles various evaluation devices to build basic technology to improve the characteristics of activated carbon and allow the development of new products.
Various patents have been obtained in Japan and overseas as a result of such work.
In addition to such basic technology, Kuraray provides creative products required in the market in cooperation with the research and development center of Kuraray Group and their external organizations.
Water treatment
In addition to trihalomethane, musty smells, and chlorine residue, Kuraray also handles heavy metals, such as lead and the removal and collection of metal ions.
Activated carbon is generally available in powdered or granular form. Kuraray is developing fiber-type and filter-type activated carbon.
There are many applications of activated carbon in the field of water treatment. Kuraray is developing the optimum activated carbon for each application.
Prevention of air pollution
Kuraray develops filters for removing odors and dioxins, recovering volatile organic compounds (VOC), and for air purification.
Various types of activated carbon have been developed, including granular, pellet, sheet, and honeycomb forms. Recently, the needs for air circulation in closed rooms is increasing, and there has been research and development in this field.
Energy-related technology
Kuraray handles characteristics of activated carbon for electric double-layer capacitors (high capacity, high durability, and high voltage).
Kuraray's coconuts based activated carbon technology and knowledge for EDLC application facilitates the development of plant-based Lib hard carbon anode material and Kuraray starts the commercial production and supply availability from 2016.
New innovative usagess
Activated carbon for vehicle
The increasing stringency of environmental regulations in various countries has resulted in strengthening of exhaust regulations for vehicles. Regulation of fuel transpiration is especially strict in North America, and high-performance canister systems are necessary. Improvement of the performance of activated carbon used for such systems is required.
To deal with such environmental regulation, Kuraray is developing activated carbon that can correspond to the environmental regulations in each country. Kuraray is focusing on the development of activated carbon to handle LEVIII, which is the North American regulation. Based on information exchanged with each user, Kuraray will coordinate activated carbon with characteristics appropriate for each user. Kuraray will also propose the best combination of activated carbon for canister systems.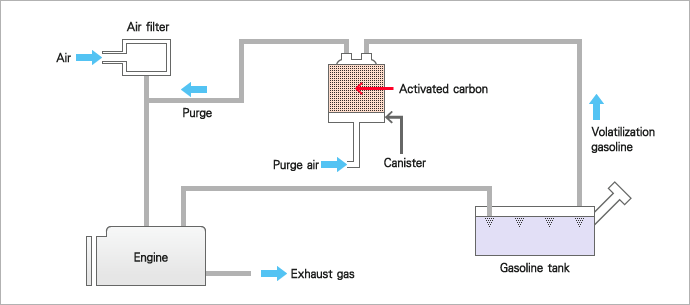 Conceptual diagram of canister
Removal of chloramine
Chloramine is used to disinfect tap water as it does not generate trihalomethanes, which have toxicity (such as carcinogens or teratogenicity), by reacting with organic compounds included in water sources. Chloramine also has the advantage of stability, and does not decompose over a long period of time. Therefore, it is increasingly used as an alternative to free chlorine, especially in the USA, where there are large distances from the water purification plant to the water faucets of the end users.
However, as chloramine is very stable, it is more difficult to decompose and remove with activated carbon compared to free chlorine. Kuraray supplies activated carbon that can effectively decompose and remove low concentrations of chloramine from tap water, by strengthening catalyst performance of the activated carbon.
Recovery of precious metals
Formerly, the main purpose of recovering precious metals was to recover gold. Now, however, activated carbon has been optimized for precious metals other than gold. Techniques to effectively recover precious metals from liquids containing very low concentrations of these metals are now under development.
Electric double-layer capacitor
Electric double-layer capacitors have superior output characteristics and life spans compared to general batteries. They have been applied to backup various type of memory, power assistance for vehicles and trains, load leveling, rush current, regenerative energy, and for storage batteries, such as uninterruptible power supplies (UPS). Kuraray's activated carbon is used in various fields for compound for electrode of electric double-layer capacitors.
Based on technology accumulated to date, Kuraray is further improving the performance of activated carbon for electric double-layer capacitors (high capacity, high resistance, high voltage, and low resistance).
Liquid passing type capacitor
Activated carbon is widely used to purify water at purification plants, water purifiers, and for waste water treatment. However, as ionic compounds, such as nitrate nitrogen, lead, and fluorine are not easily adsorbed onto the activated carbon, their removal has long been a problem. Kuraray developed the liquid passing type capacitor as a new approach to remove ionic compounds.
The liquid passing type capacitor applies the principles of a electric double-layer capacitor by adsorption of negative ions to the positive pole and positive ions to the negative pole with supply of electrical energy to activated carbon electrodes arranged at both positive and negative electrodes. Adsorbed ionic compounds can be desorbed with electrical energy, so that there is no need to use chemicals and the operation can be performed safely.
Manufacturing of the liquid passing type capacitor is performed based on technology accumulated in water treatment and electric double-layer capacitor fields.


Liquid passing type capacitor